Who would ever think that coming up with a name for my children would be easier, then finding one for a puppy!

Being a mom of three boys - I was excited to finally pick a girl's name.
I offered Monica, the one I was savoring for every single one of my babies before we knew were designed and blessed as boys' parents.
My older one immediately commented that the little clumsy puppy doesn't look like an order-loving character from "Friends".
My husband killed that option by laying on a table the same objection, that he did years ago, when I didn't know yet that we are destined for "boys' only club": "No Monica Levinsky in my house!"
My youngest one offered every single name from "Harry Potter". Including the boys' ones.
My older one declared it was "cliche". Yep, no less. I was impressed by his elocution and suggested he better practiced it in his essays… rather than in family name discussions.
My middle one wanted Dumbo.
My older one didn't even have any sassy comments left. He just covered his head with his hands and was ready to disintegrate, while his baby brother was giggling in sheer delight on this successful prank, getting just the reaction he wanted to see from his older brother.

My husband offered… ok, I am not even going to write it. I just had to notify him that yelling THAT in the middle of the street - possibly will get the dog's attention... but also, surely, a policeman's. The dog may hesitate to come. The policeman wouldn't. Unless he wanted to spend puppy raising months in some correction/detention facility... we better search for some other options.


Every option, every idea went straight to the list (well, except THAT one, of course). Friends, relatives - everyone contributed. Yes, I'd get an unexpected text in the middle of the night - "Your little Lola looks very cute!" "WHO'S Lola?" "Oh, your puppy.' "OUR puppy?!" "Oh, yes, I just realized that it would be a perfect name for it." Hm, next time I wish I found that out at some other part of the day.


By the end, the discussions got particularly heated. My youngest one wanted to satisfy his wizarding world cravings with a puppy named Luna. My middle's one mind was in sci-fi world - or math?! - he really wanted to call a puppy Seven (as a Seven of Nine, except not from Star Trek, since he never saw the show, but the seventh puppy of nine of her siblings, haha). My teen, customary for his age, was against every option on a list without a single one added by himself. I just wanted a puppy… four legs and a tail... and my husband, I am afraid, wanted none of the above, but wisely kept those thoughts to himself.

I also wanted the name to be fun. I really wanted it to be smart. Something ironic, a bit silly and cute… both me and my youngest (his nickname in school - Little Einstein!) would gladly name a puppy Einstein, but it didn't translate well into a girl's name.

So… we put the decision off. Until we'd get her home an look in her furry face.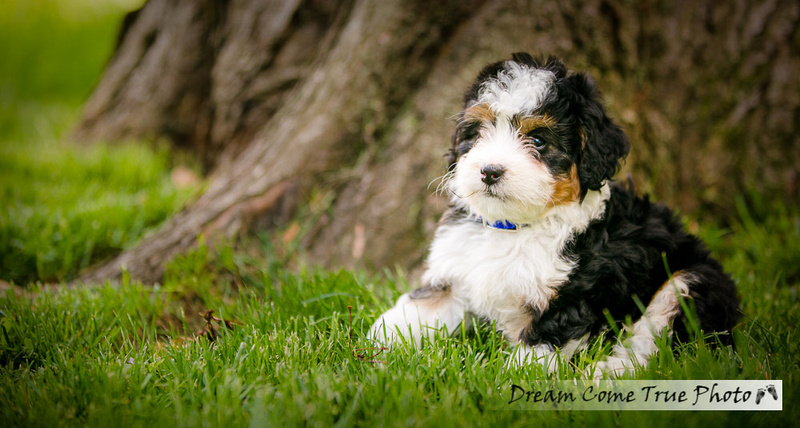 Yet, through the expectations and getting ready, packing and reshuffling furniture, heading on toys buying spree and diving into feeding options madness… I was flipping through the images captured on my previous trips to the breeder, marveling how the adorable red eyebrows make her look serious, even frowning. Add the funny waddling walk, the shape of a teddy bear. Mix in the latest project my kids did… some research that led to the figure of Winston Churchill. And, suddenly we had a name.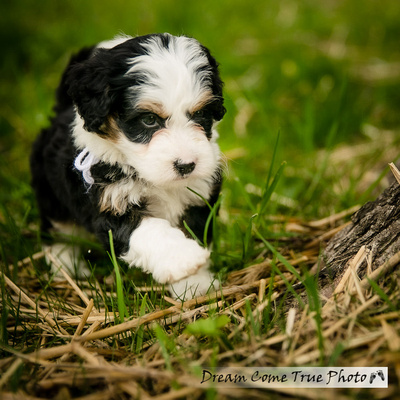 Allow me to introduce you to our own little... Winston Churchill. Yes, it's a girl. There is a girl named Madison and another one named Jordan in my children's classes, so I don't see anything wrong with having a girl named Winston Churchill. She is smart, she is waddling, she is frowning.

But… she is also cute. And inside her adorable curly head - not one the world's greatest intellects, but… stuffing! Silly, cute, hilariously funny. Just like her "teddy-bear" look and bear-walk. So… she is not old enough to qualify for Winston Churchill yet.

So her official name goes to another famous Winnie: Winnie The Pooh. Winniepusha.

And, to my surprise, everyone suddenly agreed that it was perfect for our little teddy-bear-like puppy.

I guess, being the mom of three boys, I lost the capacity for coming up with girls' names, haha!
P.S. It is incredible to see, how even a puppy looks entirely different depending on lighting, posing... and moment in time - some of these images were captured during our 7 week visit to our adorable little girl, and a few - just a week later... babies are growing fast! ;)

Share what you think suits her the best, or what other fun names did you hear puppies (kitties, bunnies, pets in general) their crazy parents come up with!