Art shared a really fascinating story: his team hired an intern - a young boy, whose experience, abilities, responsibilities didn't stretch too far.

The kid worked with them for a little while… then got himself a professionally looking headshot, applied for one of the significant positions within the company… and was hired straight away! The jump from zero to hero was so dramatic, that Art decided to look into this guys' resume more closely. The resume hasn't changed all that much since they hired him - there was simply not enough time for that. What changed was just the quality of a headshot: in a suit and tie, on a professionally done image, the kid suddenly looked older, more professional, more reliable, more attractive! A picture says a thousand words.
As a part of our Professional Branding session, Art and I discussed a whole array of uses these wonderful headshots would get: professional, social, hobbies. Linked In profiles, company's website, email signature, personal ones.

We created a list of qualities he wishes to portray, things Art would want the world to know about him. What impression should potential clients get? What about his superiors? Potential ones? What new opportunities should open up? A CIO, blogger and real estate agent should leave very different impressions.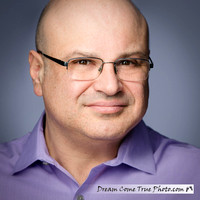 What does your headshot say about you?
Art, dear, I certainly hope your headshots will give your career a powerful boost! You are one of the most charismatic, wisest, insightful, deep thinkers I know. And, definitely, one of the most FUN!!! Add your enormous experience, patience and ability to think outside the box - it is one incredible recipe! I see warmth and professionalism that I can trust.
You uploaded your image only today and I am thrilled about the wonderful positive feedback that you've already got. You are off to a great start - this is only the beginning ;))